A JON WOODS VIDEO
starring Charlie Laine, Melissa Jacobs, Akira Lane, Jamie Lynn, Andie Valentino, Erica Ellyson and Vivian Ireene Pierce
with Ikaras Jones, Chase Brocco and Jon Woods

Melissa Jacobs and Charlie Laine are the two newest servers hired for a "Maid Café." No sooner are they in their frilly uniforms than their training begins, which includes being chairtied and cleavegagged so they can learn the subservient attitude required for working in the restaurant. Melissa gets it right away, but Charlie maintains her defiant attitude.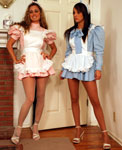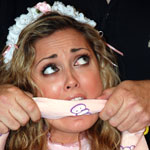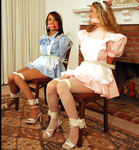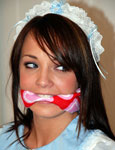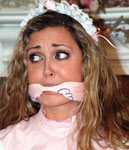 That evening when Akira doesn't show up, Melissa is assigned to take care of a high-paying, peculiar patron. Charlie tricks the blonde into being tied up with stockings and tapegagged so she can take her place.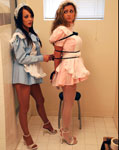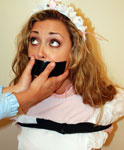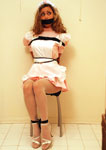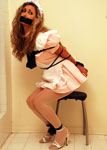 But while Melissa squirms in the dressing room, Charlie finds out why the kinky customer pays so well -- she's locked into leather cuffs with a spreader-bar and ballgagged to serve his dinner.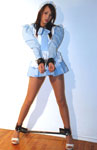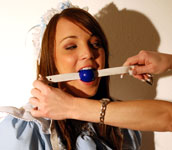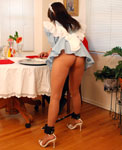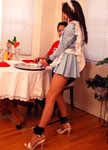 The manager discovers Charlie's shenanigans, and he punishes both maids with a late clean-up. While working after hours, Charlie and Melissa are confronted by a robber who forces them to strip at gunpoint. They're tied back-to-back and gagged, their breasts are exposed and they're left to be found in the manager's office.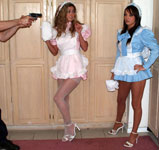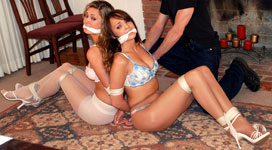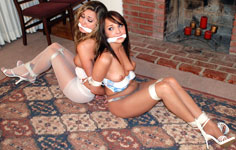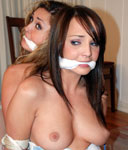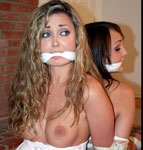 Meanwhile, the manager returns home where we learn he spends his night served by two maids of his own, whom he keeps cuffed and ballgagged. When Erica Ellyson confesses to breaking a vase, he asks Andie Valentino to discipline the wayward servant.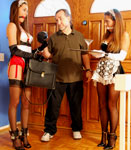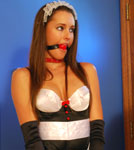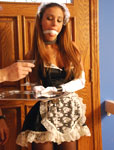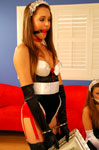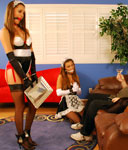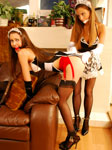 Both ladies are then secured for the night when it's bedtime.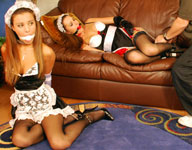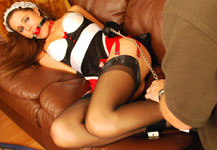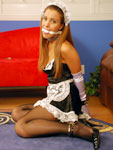 ORDER DVD, OR DOWNLOAD VIDEO SCENES

The story is followed with the complete scenes shown briefly in the main feature:

Akira Lane plays a maid who is held against her will at home. She pleads with her captor be set free, but instead she's tied hand and foot and tapegagged.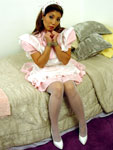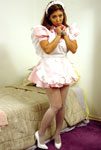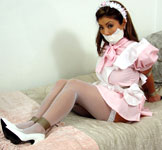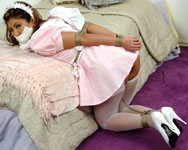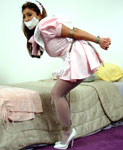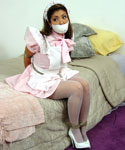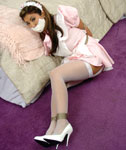 Jamie Lynn is a white-sneakered waitress from the "Objectified Women" restaurant who won't play ball with her evil boss and ends up bound and gagged. When she tries to hop away, she's caught and thoroughly tied to a chair, and her lovely breasts are exposed.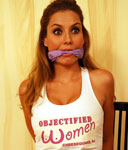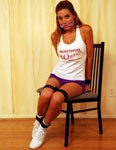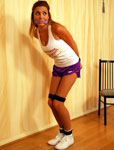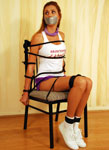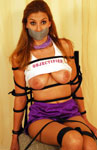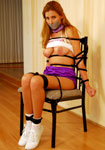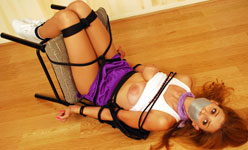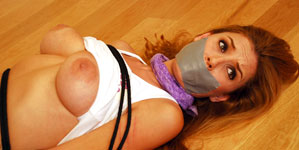 In a bonus scene, Vivian Ireene Pierce appears as a bartender, cleavegagged and tied standing to a post in the back room after the Maid Café was robbed.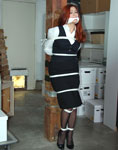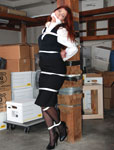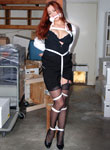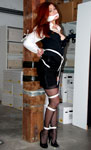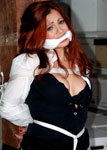 A slideshow of production stills is included in the DVD.

ID #: JW-23
Price: $30.00
60 Minutes