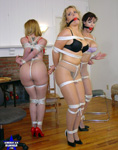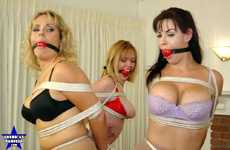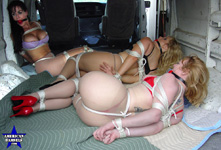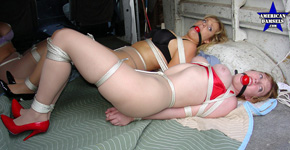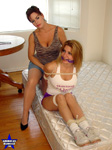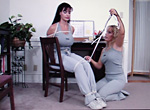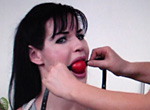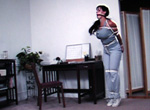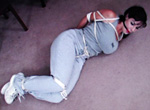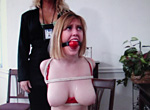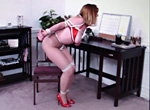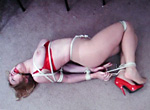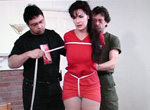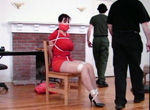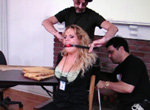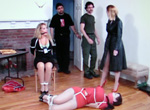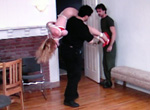 Starring Alexis Taylor, Cassandra Knight, Jenni Lee and Darling; with Chase Brocco and Ikaras Jones.
Onscreen bondage, onscreen gagging, pantyhose, toplessness and more!
In this story by MG, Special Agent Alexis Taylor tries to teach new agent Cassandra Knight some of the finer points of escape artistry. But when Alexis is tied, gagged and unable to free herself, Cassandra leaves her alone to struggle while she brings in an underworld courier known as "Miss Red" (Darling). The agents make the busty blonde strip, and Alexis wears Darling's clothes so she can take her place for her meeting with "Mr. Black." Unfortunately, the plan goes awry when the meeting is also attended by "Mr. Green," who knows that Alexis is not the real "Miss Red," and the buxom impostor is taken captive by the villains.
When Alexis fails to return, Cassandra goes to find her partner and leaves "Miss Red" tied and gagged in their office. But the bad guys grab Cassandra, and she's quickly bound and gagged along with her partner. Meanwhile, Darling manages to free herself and heads for the meeting; but when she arrives, the spies are not pleased that she gave away her mission so easily, and she is placed in bondage with the others. All three women are stripped to their bras, panties and pantyhose, and face an uncertain future if they can't escape.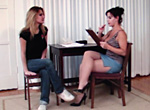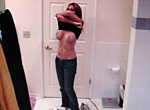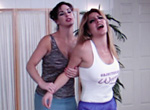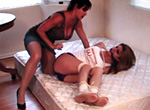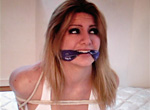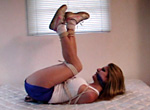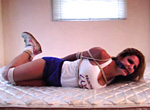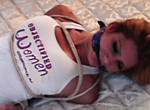 In "Objectified Women," Jenni Lee applies to be a waitress in the titular restaurant. But when she realizes that manager Alexis Taylor is secretly videotaping her in the changing room, she confronts her, and Alexis warns the busty beauty to play along or else. When Jenni refuses, she's hogtied and gagged on a mattress in the back room and headed for big trouble!
64 minutes
VISIT OUR STORE MENU FOR ALL FORMAT/PURCHASE OPTIONS