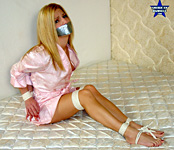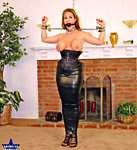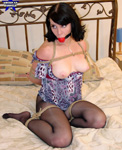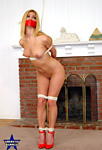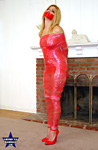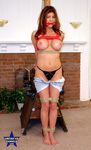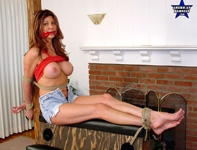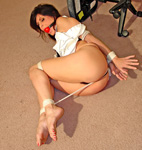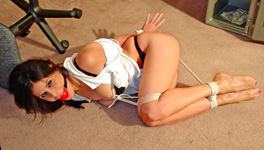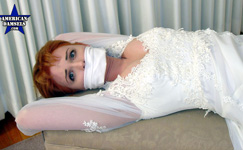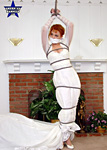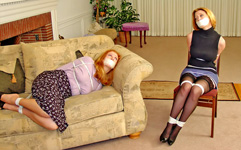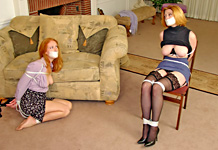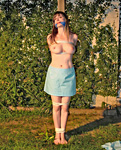 Jenni Lee, Alexis Taylor, Amber Star, Hollywood, Ashley Renee, Jane Stonewood, Jenna West, Darling & Lorelei.
Another fantastic collection of bound and gagged damsels in vignettes!
Damsels in Bondage 6: Blonde beauty Jenni Lee is tape-gagged and toe-tied in a silky robe, which falls open to reveal all her feminine charms. Alexis Taylor is corsetted, ball-gagged and tied in a high-fetish style by Ikaras Jones, her legs tightly wrapped in rubber strips and her wrists cuffed to a bar attached to her collar. Doe-eyed brunette Amber Star is frog-tied and ball-gagged on the bed in pantyhose; and Jenni Lee returns, she's tied nude except for red high-heels, then she's progressively wrapped up in plastic and mummified with duct tape.
Damsels in Bondage 7: Sexy Hollywood is bandanna-gagged and tied barefoot in a tank-top and denim cut-off shorts, and her panties and voluminous breasts are exposed. Bondage superstar Ashley Renee is office-tied in a T-shirt (that gets ripped away), black bra and panties, she's barefoot and ball-gagged. Gorgeous redhead Jane Stonewood is bound and gagged bride, tied hands-over head and gagged with a classic over-the-mouth detective gag. Secretaries Jenna West and Darling are tied and tape-gagged, Jenna hogtied on the sofa loses her heels as she squirms to the floor. Lorelei wears only a skirt as she's bandanna-gagged and post-tied outside.
A generous slideshow is included on the DVD.
60 minutes